Error message
Notice: Undefined index: HTTP_ACCEPT_LANGUAGE in include_once() (line 2 of /virtual/sites/adcminnesota_chroot/adcminnesota/adcminnesota.org/htdocs/sites/default/settings.php).

African Development Center of Minnesota has received a $300,000 Wells Fargo grant which will help expand Minnesota diverse-owned small businesses.

ADC is excited to be one of 23 grant recipients through a new statewide program designed to provide funding to emerging entrepreneurs!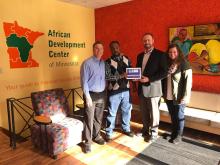 Thanks to Willmar Lakes Area Chamber of Commerce for a Milestone Anniversary Recognition of ADC's 5 years of continues support of the community.